From a high of 7.3% in 2010, economic growth slows drastically to 3.9% in 2011 due to the global downturn and, in part, to the Aquino administration's underspending, particularly on infrastructure. But growth bounces back to 6.4% in the first quarter of 2012, the second-fastest in the region next to China, as government spending picks up. After weeding out corruption in infrastructure contracts, the government says spending is expected to gain more momentum, helping the Philippines achieve or even exceed its target of 5% to 6% growth this year.

Despite economic gains, more Filipino households feel they remain poor. Based on a survey of pollster SWS in May this year, 10.3 million families consider themselves poor, up from only 9 million in the nearest comparable survey conducted September 2010. New government data on poverty have yet to be released. The last NSCB survey in 2009 shows poor Filipino families total 3.86 million, up from 3.67 million in 2006.

Working Filipinos total 37.8 million as of April 2012, higher than the 35.4 million recorded as of April 2010. This as more people join the labor force, which rises to 40.6 million from 38.5 million.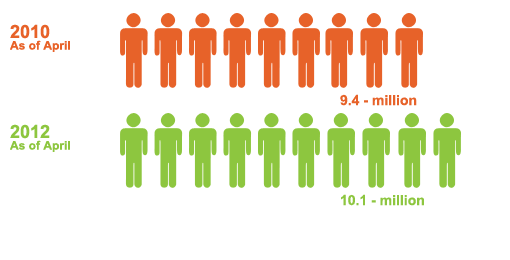 The number of unemployed falls to 2.803 million as of April 2012 from 3.097 million as of the same period of 2010. But the underemployed or those seeking more jobs or longer working hours rises to 7.312 million from 6.298 million.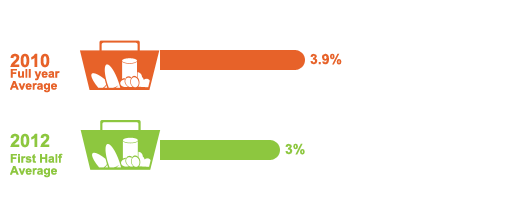 Inflation or the rise in consumer prices remains low and steady from 2010 until middle of this year. Low inflation encourages people and businesses to spend, boosting the economy.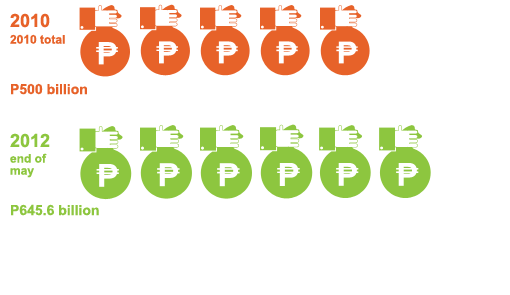 Total revenue collection of the main tax agencies grow double digits from previous years but still mostly fail to meet government targets. The Aquino government vows to plug the leakage in the tax system by going after tax cheats and smugglers before raising or imposing new taxes.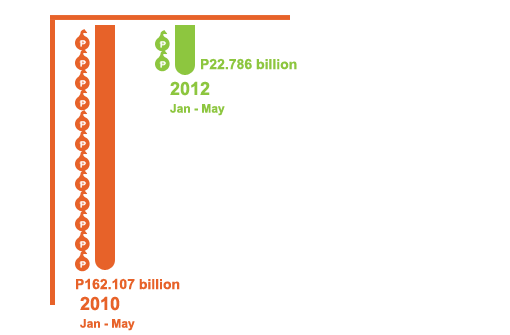 A low budget deficit has been cited by international credit ratings agencies for upgrades in the Philippines' rating to one notch below investment grade. The Aquino government trims the deficit as its revenue collection grows faster than its spending.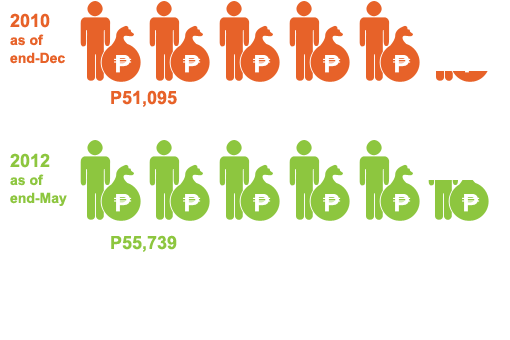 Debt is what government uses to plug the gap between its revenue collection and spending. Government debt continues to rise in the last few years, although at a slower pace during Aquino's term. Finance officials attribute this to debt management efforts such as the lengthening of maturities of loans and conversion of debts into local currency, which eliminates risks related to foreign exchange volatility.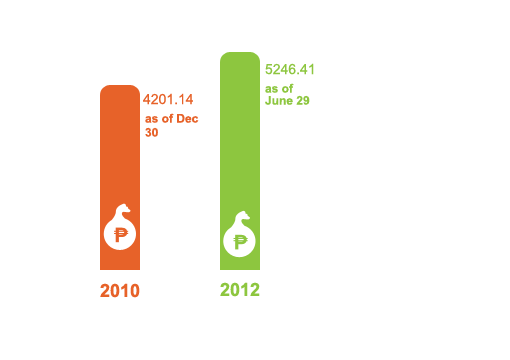 The Philippine Stock Exchange (PSE) index touches a new all-time high 19 times in the first semester of 2012, jumping by a total of 20% in January to June. As of July 6, the Philippines is the top performing stock market in Asia, with an increase of nearly 23%, better than the bourses in China, India, Hong Kong, Singapore, Indonesia, Malaysia, Thailand and Vietnam, among others.
Foreign direct investment inflows in the country continue to grow on the back of favorable macroeconomic conditions, although investors remain wary of potential spillovers of the debt problems in Europe. These investments are what the country aims to attract because they are sustainable, they create jobs and grow the economy. Government has yet to release FDI data for June 2012.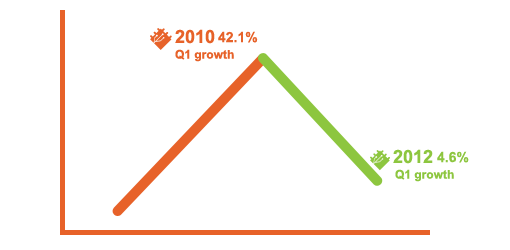 Export growth slows down drastically from 42.1% in 2010 as the global downturn hurts demand from the Philippines' trading partners. Exports are down for most of 2011, but they recover slightly in the first quarter of 2012, growing 4.6%.


Portal 2 is an action shooter game from Valve Software that draws from the original formula of innovative gameplay, story, and music, which earned the original Portal more than 70 industry accolades.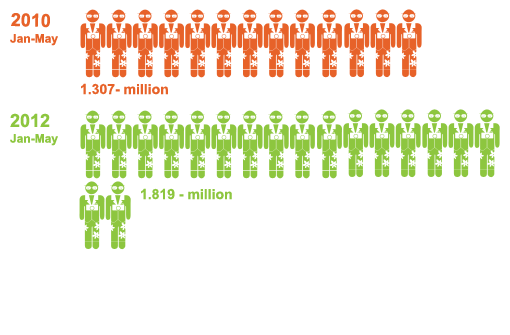 The Aquino government cites its pocket open skies policy as one reason behind the surge in the arrival of tourists in the country. The policy allows foreign airlines to fly in and out of the country's secondary airports without restrictions. Also seen as driver is its new tourism campaign, "It's More Fun in the Philippines." Industry analysts however say it may take a while before this makes a big impact on visitor arrivals.


Portal 2 is an action shooter game from Valve Software that draws from the original formula of innovative gameplay, story, and music, which earned the original Portal more than 70 industry accolades.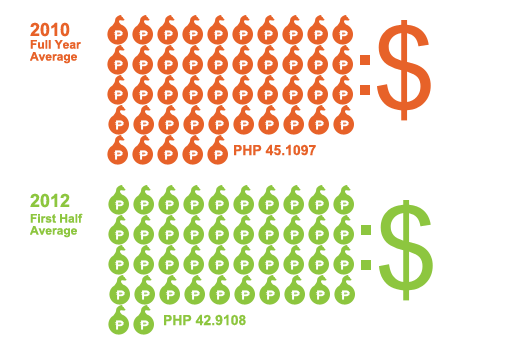 The peso strengthens against the US dollar as investors put funds in local stocks and other assets in emerging markets, including the Philippines. A stronger peso makes the country's imports cheap. However, it also hurts exporters and families of overseas Filipinos who earn money in dollars.